The show will start within:
-852
days
-14
hours
-18
minutes
-7
seconds
The school was founded in 1988. Among the graduates of the school: Ayelet Zorer (who played in the movie "angels & demons" with Tom Hanks, Munich directed by Steven Spielberg superman and many others), Ali Saliman (who played in the movie "Paradise now" that was nominated for the Oscar) and many others Who are playing leading roles in theatre movies and T.V.in Israel. The school is located in the most neglected neighborhood in Tel- Aviv, "shechunat Hatikva", ("the neighborhood of hope").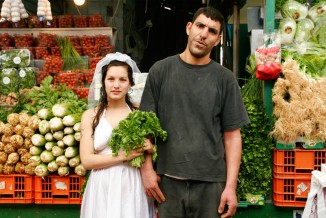 The uniqueness of the school is in the combination between the highest level of professional acting studies with community work in the neighborhood where the school is located.  Few such institutions exist around the world.
As part of the training to become professional actors, the acting students are committed to lead 16 drama groups with in the community such as: youth at-risk, immigrant's children in distress, children with special needs and emotional problems, senior and many more.  Our community works empower the neighborhood residents, and also gives them tools for individual growth and development.
Furthermore, we have subscription project for the residents of our neighborhood, who can attend the shows which are produced in our theatre hall.  For most of the people in the community it is the first time in their lives to see theatre. By attending our shows (which are played by the third year acting students) they are exposed to the best classic and modern theater repertoire.
 We intend to expand our activities in our neighborhood by creating new projects in which acting students as well as local residents will take part. Our youth at risk groups represented Israel in an international festivals around the world.  
For contact:
Tel: 972-3-6886514   Fax: 972-3-6886515 mevasser 22 st. Tel-Aviv, ISRAEL studioact@013.net   
Contact Us
To schedule a tour or to make a donation please contact the association's representative Halil Yitzhak.
Phone: 03-6886514 Ext' 6 or Mobile: 050-2451532 or leave your contact details here: