Dreaming about acting classes? Join the Preparatory Acting Program for Youth and study with the best teachers at the leading school in Israel, the Yoram Loewenstein Acting Studio, where hundreds of successful actors have attended.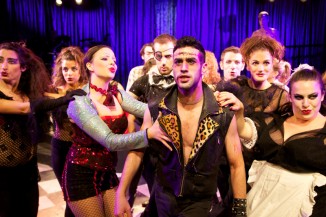 The Preparatory Program offers students an introduction to the world of theatre and acting, stage, and the arts. The Studio's finest teachers teach Preparatory Program students the following classes: Basics for Acting, Improvisation, Text Analysis, Group Development, Movement for Theatre, and Voice Lessons.
Preparatory Program studies necessitate a serious, responsible and mature approach to studies; students should be curious and open-minded, with an honest desire to learn, develop, and try new things.

Hours:
The Preparatory Program convenes weekly for a four-hour afternoon session.
Preparatory Program Curriculum:
- Theatre acting
- Choral singing
- Movement for theatre
- Stage fights
- Workshops with studio graduates who are now industry leaders
Admission Requirements:
Registration and interview


Contact Us
To schedule an interview and for any questions, clarifications, or additional information call 03-688-6514, extension 0, Sunday, Monday, Wednesday, Thursday, 9:00-15:00 or leave your contact details here: